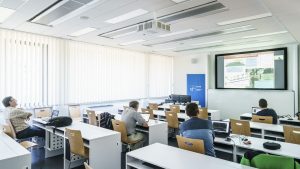 The largest ICHEP2020 particle physics conference, which took place between July 28 and 6 August 2020, attracted over 3,000 particle physicists. Originally, the organizers expected that about a thousand of them would arrive in Prague, but due to the pandemic, the plans had to change and the conference moved to the online environment.
In total, over 800 parallel lectures took place in the first part of the conference, which ran every day in 12-17 sections. About 100 to 200 scientists followed each section. In addition, another 44 plenary lectures and 150 poster presentations were added. Links to video recordings of the lectures are available even after the conference on the website ichep2020.org.
"Particle physics is one of the most important research directions at CTU. Our involvement in research at CERN, the Brookhaven National Laboratory (BNL) and neutrino experiments is key. We also develop detector technologies for experiments, "says doc. Jaroslav Bielčík, who was a member of the conference organizing committee. He participated in it as the head of the research program PARTPHYS, which is part of the project of the Center of Advanced Applied Sciences (CAAS) co-financed by the European Union. This project also co-financed the conference.
14 representatives of the Faculty of Nuclear Sciences and Physical Engineering of the (FNSPE) also spoke at the conference. Many other FNSPE staff were involved in the organization of ICHEP, for example Jana Bielčíková co-coordinated the conference program committee, Jaroslav Bielčík co-coordinated the preparation of the program for the public, Barbara Trzeciak co-led the Heavy Ion Physics section, Miroslav Myška co-led the Education and Popularization section and Michal Marčišovský co-led the Detectors section. Zdeněk Hubáček, Kamil Augsten and also many of our students took part in the technical implementation of the conference.
The program intended for the general public also received great deal of attention, specifically the lecture of the nobelist prof. Barry Barish, a series of video broadcasts and lectures during Wednesday afternoon on 5 August and the visual music show ColliderScope Music on Thursday night, which concluded the conference program. This part of the program also took place online and can be seen at any time on YouTube via the links in the conference program on the web.
The ICHEP conference was jointly prepared and organized by institutions participating in particle research: Faculty of Nuclear Sciences and Physical Engineering CTU in Prague (FNSPE), Faculty of Mathematics and Physics, Charles University (MFF UK), Institute of Physics AS CR (FZÚ), Institute of Nuclear Physics AS CR ( ÚJF), Palacký University in Olomouc, Technical University in Liberec, University of West Bohemia in Pilsen, and in addition the International Union of Pure and Applied Physics (IUPAP).