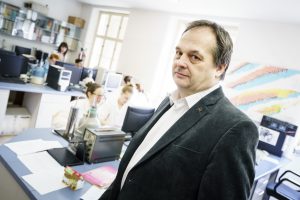 The Dean of the Faculty of Nuclear Sciences and Physical Engineering of the Czech Technical University in Prague (FNSPE) and project director of the Center for Advanced Applied Sciences (CAAS) prof. Ing. Igor Jex, DrSc., became a member of the Strategic Advisory Board of the European Research Project QuantERA. It supports cooperation in the field of quantum technology research and interconnects 31 organizations from 26 countries.
"The principles of quantum physics are gradually finding their way into practice. The development of quantum technologies is supported by leading scientific institutions around the world. One such is the FNSPE, where we devote our time to quantum technology and research. We are also preparing students to pursue this field and we are now waiting for accreditation for the Quantum Technology study program," says prof. Igor Jex.

QuantERA launches its own research projects with the support of European funds –there were 26 projects with a total budget of more than 32 million EUR in 2017. In total, 128 research teams from 23 countries participated in the research. This year it has about 20 million EUR prepared for research and is currently under evaluation. The project is coordinated by the Polish National Science Center.
The Strategic Advisory Board of QuantERA has 12 members – leading quantum technology scientists. It participates in the direction of the whole project, but also in its cooperation with organizations outside Europe.