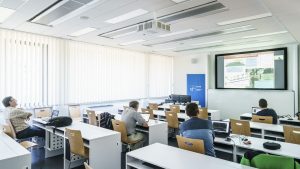 The largest ICHEP2020 particle physics conference, which took place between July 28 and 6 August 2020, attracted over 3,000 particle physicists. Originally, the organizers expected that about a thousand of them would arrive in Prague, but due to the pandemic, the plans had to change and the conference moved to the online environment.
In total, over 800 parallel lectures took place in the first part of the conference, which ran every day in 12-17 sections. About 100 to 200 scientists followed each section. In addition, another 44 plenary lectures and 150 poster presentations were added. Links to video recordings of the lectures are available even after the conference on the website ichep2020.org.
"Particle physics is one of the most important research directions at CTU. Our involvement in research at CERN, the Brookhaven National Laboratory (BNL) and neutrino experiments is key. We also develop detector technologies for experiments, "says doc. Jaroslav Bielčík, who was a member of the conference organizing committee. He participated in it as the head of the research program PARTPHYS, which is part of the project of the Center of Advanced Applied Sciences (CAAS) co-financed by the European Union. This project also co-financed the conference.